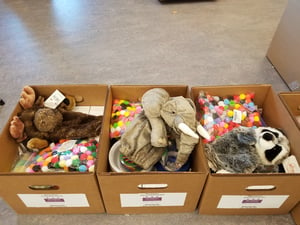 The EiE team creates every curriculum unit using extensive feedback from our closest collaborators: educators! Each unit undergoes multiple rounds of pilot testing to ensure that educators can implement engineering with ease and students can have a rich learning experience. Our quality control doesn't stop at the educator guide—we make sure every pipe cleaner bends just right, and that our smiley-face erasers aren't too distracting for preschoolers. We carefully select and test each material so that by the time an EiE kit arrives in an educator's classroom, they can feel confident that it works! This fall, we're piloting units from our preschool, kindergarten, and afterschool curricula, supplemental curriculum materials, and digital storybooks. EiE staff are assembling 81 pilot kits by hand to send to sites across the country. To give you an idea of just how many pom-poms and purple foam sheets that entails, we created an infographic breaking down what it takes to orchestrate a national EiE pilot.
Not displaying properly? Click here.
Dividing 17,000 pom-poms into 81 separate kits is no easy feat, but our enthusiastic team is ready to do whatever it takes to make teachers' days easier.
If you're interested in piloting opportunities, be sure to subscribe to our monthly newsletter and sign up for blog notifications. You'll be the first to hear about pilots, PD events, and upcoming curriculum products.