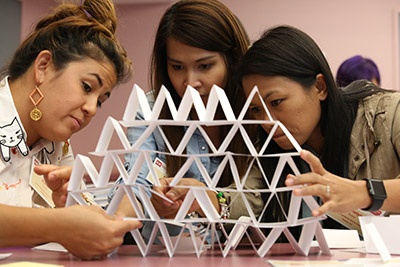 Build your knowledge.
One of EiE's crowning achievements is our Professional Development (PD) program. Elementary educators who come into our workshops knowing almost nothing about engineering leave feeling like EiE experts. But as much as our PD staff would love to show every single teacher the best practices to implement EiE, they can't be everywhere at once. So when a district or school needs to prepare many teachers to implement EiE and provide the long-term support they know their teachers need, they send their professional development providers to one of our Teacher Educator Institutes.
Teacher Educator Institutes (TEIs) use a "train the trainer" model to prepare professional development providers to teach EiE to classroom teachers. At a TEI, you'll learn all about EiE by engaging in the activities from two EiE units with other professionals from all over the country. If you register before November 21, attendance is an affordable $450. You'll come away from this three-day experience with
the resources you need to effectively facilitate your own teacher workshops,
tips and tricks for materials and classroom management to pass on to teachers,
effective questioning strategies,
and more!
There's still time to register for our upcoming TEI at the Museum of Science, Boston on December 6-8, 2017.
Facilitating Immersive, Interactive Workshops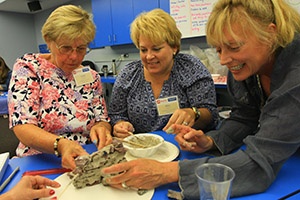 TEIs are not a spectator sport!
After you leave the TEI, you'll feel prepared to facilitate EiE workshops using our interactive model. Our PD providers demonstrate effective questioning strategies that encourage deep thinking and reflection on design choices, which you can then pass on to the teachers in your own workshops. By engaging with EiE through hands-on exploration of multiple units, you'll experience EiE lessons as a facilitator, teacher, and student.
You'll also gain access to password-protected resources after completing the TEI that will help you facilitate effectively—PD guides, PowerPoint slides, and teacher activities are invaluable tools for leading workshops. But don't take it from us—a K-12 engineering outreach coordinator from Nebraska and TEI graduate agrees: "I am very excited about spreading the word on engineering and technology literacy throughout the state and EiE has provided an excellent vehicle to do this," she says. "There is a wealth of excellent resources on your website."
Educating Others About EiE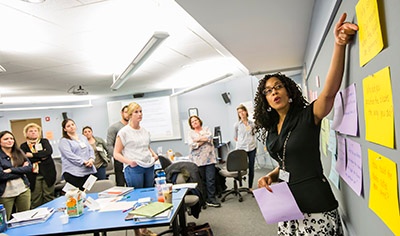 TEI graduates are EiE experts.
We're confident that our TEI graduates are all future EiE ambassadors. We make sure you're ready to field questions from teachers and administrators about EiE by educating you on all the "whys" and "hows" of our curriculum—why did we arrange the activities the way we did and how does that support learning and engagement? When you explore our units firsthand, you'll feel equipped to explain EiE inside and out.
"I felt very well prepared to facilitate the K-5 workshops for my district using the basic format of EiE for all levels," says David Bergerson, TEI graduate and K-12 science coordinator at Wisconsin Rapids Public Schools. "It gave everyone a consistent intro to engineering and technology. I felt very good about doing the workshop."
Conveying the Core Values of EiE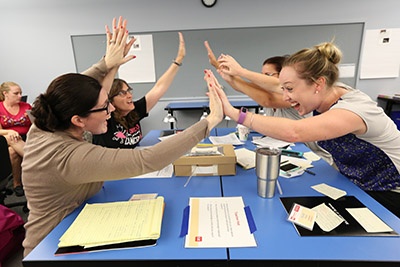 Gain confidence and make a difference!
EiE is an engineering curriculum unlike any other—our strong research base, commitment to reaching underserved populations, and crosscurricular approach make us unique. When you attend a TEI, you'll learn all about our core values and how to communicate them to the teachers in your own workshop. You'll leave feeling confident in your knowledge of engineering and technology and the role they play in the lives of students and teachers.
TEI graduate Beth Sommers, curriculum integration and extended learning coordinator at Greenland Central School, remarks, "My confidence in my ability to make a difference at our school and in the lives of our students has increased dramatically! Teachers from other schools in our district are beginning to be curious about the engineering we do!"
If you're ready to make a difference in the lives of teachers and students in your district, then we can't wait to meet you! Sign up for our December 6-8 TEI today.