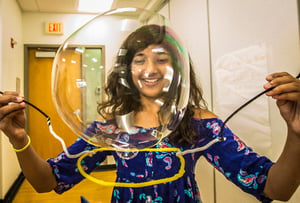 From February 20-22, the EiE team will be at the Beyond School Hours conference in Atlanta. We're excited to meet with the out-of-school and afterschool community and share some of our new resources with you! Join us for one of our sessions or stop by booth #310 to enter our raffle for an educator guide, chat with our team, and try your hand at engineering earthquake-resistant buildings.
At our hands-on sessions, we'll be exploring some of the core values of our curricula, such as data-based decision making, social justice, and developing empathy.
The Affordances of Engineering in Out-of-School Time: Creating a Generation of Problem Solvers
Thursday, February 21st at 4 PM in Spring
Friday, February 22nd at 11 AM in Hanover Hall C

Come learn why the out-of-school time setting is the perfect arena for youth to harness their creativity by engaging in a hands-on engineering challenge that highlights the benefits of youth-driven exploration. Learn how engineering can inspire 6th-8th graders to think like engineers through globally relevant design challenges that build on their 21st century skills.


Is It Working?: Creating High Quality Curriculum Using a Data Driven Design Process
Thursday, February 21st at 4 PM in Hanover Hall E
Friday, February 22nd at 11 AM in Vinings

Come learn how to improve your out-of-school time offerings by setting goals, observing, and gathering feedback during a hands-on engineering activity. Discuss how to improve and implement these data collection practices in your own setting and walk away with four evaluation tools to guide your strategic planning and goal-setting.


Engineering for Social Impact in Out-of-School Time Settings
Thursday, Feb 21 at 1:45 PM in Embassy A/B
Friday, February 22 at 4 PM in Embassy A/B

Participants will explore concrete ways that youth in grades 3-8 are engineering for social impact and using an engineering design process to collaboratively create solutions to problems they identify in their own communities. Recommended for: afterschool educators, librarians, fans of transformative education.
If you'd like to talk with us about how we can help you meet your goals for your afterschool program, be sure to schedule a meeting with a member of the EiE team.
We hope to see you there!