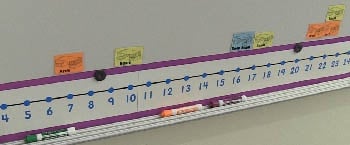 Extend math learning with a line plot for "Designing Bridges" data.
To date, 42 states and the District of Columbia have adopted
Common Core State Standards for Math
. What does that mean in the classroom? Students still have to learn to add, subtract, measure, and make bar graphs. They're also expected to develop a deep understanding of math concepts and be able to apply math outside the classroom. Hands-on engineering is ideal for putting math in a real-world context, and Engineering is Elementary's newest teacher workshop, "Linking the E & M in STEM" (LEMSTEM), is packed with creative strategies for meaningful integration of math and engineering.