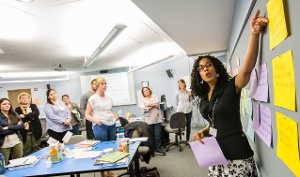 Over the past three years, a partnership between EiE and MathWorks, the Natick-based software company, has helped teachers across Massachusetts gain the confidence and skills they need to implement integrated STEM. We're thrilled that MathWorks sees the importance of showing young learners that anyone can solve problems and be an engineer, and that the company continues to support initiatives that fund professional development experiences and materials that will help educators create a generation of problem solvers for years to come.
The 2018 EiE/MathWorks scholarship workshop introduced EiE to 12 new educators from Brockton and supplied them with educator guides, storybooks, and materials kits so they could bring engineering into their own classrooms. EiE professional development workshops are designed to enhance teachers' understanding of engineering and technology and introduce them to EiE curricula, but they also increase teachers' confidence and show them how to implement hands-on, open-ended challenges. A few months after the workshop, our scholarship recipients are already seeing the impact that EiE has on their students and on their own teaching methods.
Maureen McRae, a fifth grade teacher at the Downey School in Brockton, says, "I've learned to let students make mistakes and solve them through collaborating with their peers instead of asking the teacher for help. I also realize that the engineering design process is more important than the result."
And Melissa Randon, a fifth grade teacher at the Arnone School in Brockton, emphasizes the importance of introducing engineering to young learners. She says, "The focus on engineering is important as it helps cultivate problem solving and higher order thinking strategies. EiE does a great job making this challenging task relevant."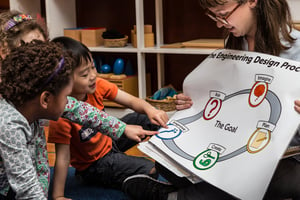 Since 2016, MathWorks has helped EiE support Massachusetts districts such as Brockton, Lowell, and Haverhill. So far, the partnership has funded professional development experiences and classroom materials for 22 teachers from Brockton alone. In elementary schools throughout Brockton, these teachers have introduced engineering to other educators, who have in turn brought it to the students in their own classrooms. This has created a robust integrated STEM program that will set many learners up for success in school and life, proving that a scholarship workshop can go a long way in empowering dedicated educators.
We're so glad that our longtime partnership with MathWorks has helped educators in Brockton and beyond access engineering and real-world problem solving. Do you have a story about how you implemented engineering in your district? We'd love to hear it. Leave a comment below or email us at eie@mos.org.