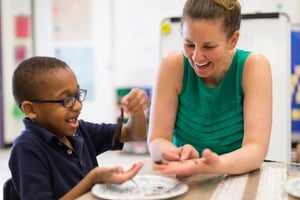 Children are natural engineers — and encouraging their skills early is essential. It might seem intimidating, but engineering is simply using math and science — and creativity — to build technology that solves problems. Engineering gives very young kids that confidence they need to believe they can make a difference. How can parents engage their kids in engineering? What does age-appropriate engineering look like? EiE and Bright Horizons are partnering together to host a parent-friendly webinar, Engineering in Early Education, to answer those questions and more!

On May 28, 2019 at 12:30 pm (ET), our Director of Professional Development, Nia Keith, will discuss research tips and strategies.

Register for this special May webinar to learn why this future-forward concept matters and how it supports early childhood development. Attend and learn:

What is engineering?
Why does engineering matter?
How does engineering support early childhood development?
When are children naturally engineering?
How parents can spark a lifelong passion for STEM?
Join parents and educators on May 28, 2019 at 12:30 pm. Register today for our parent-focused webinar co-hosted by Bright Horizons! And please do share widely with parents and families!