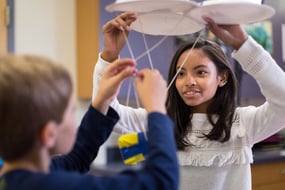 Looking for more EiE units for your end of school learning or summer programs? Thanks to generous support from the Overdeck Family Foundation, select Engineering Adventures and Engineering Everywhere units will receive a 3X donation match on DonorsChoose.org for a limited time. Read on to learn more about this exciting offer, and to find out which units are eligible!
How It Works
For a limited time, select EiE kit bundles are eligible for a 3X donation match on DonorsChoose.org—for example, a $10 donation will become a $30 donation. This means you can reach your goal faster, and get your learners engineering even sooner!
Three Units Guaranteed to Engage Learners
Each of the eligible units immerse learners in hands-on challenges that will develop 21st century skills like collaboration, creativity, and communication, and boost science knowledge. They're perfect for flexible classrooms, summer learning programs, and afterschool. Click through to learn more about the units:
Amazing Impact
New educators are reaching their funding goals every day, and we're thrilled to see the impact this initiative is making in classrooms across the country. Ms. Walnet from Waterbury, CT shares:
"They will have the chance to solve real world problems. They will have the chance to guide their own learning. But most importantly, they will become problem solving experts all while knowing there is a huge community out there supporting them and wanting to see them succeed!"
167 projects have already been funded: that means that 16,536 students (and counting) will get the chance to unlock their inner engineer! If you're looking to integrate more EiE units into your classroom, visit DonorsChoose.org today to learn more about this initiative and to get started.