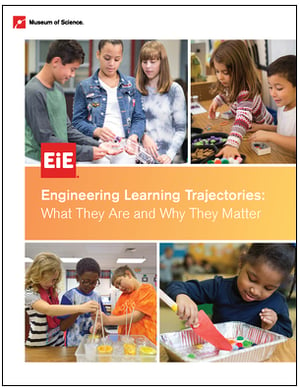 According to EdWeek, STEM jobs are predicted to grow at a faster rate between 2014 and 2024 than jobs overall. With these stats, districts need STEM curricula that unlock important 21st century skills and open doors to a world of possibilities for their students. Engineering provides opportunities for schools and districts to do just that.

With sixty-five percent of scientists and graduate students surveyed reporting their interest in science began before middle school (it always existed or began in elementary school), it's becoming more and more crucial to start engineering instruction early. Schools need to get kids into the engineering pipeline when they're young, before it becomes an afterthought.

This means that schools and their academic teams must start looking for effective curricula that place an emphasis on the Engineering in STEM and introduces students to engineering at the right pace and in an age-appropriate manner. This helps ensure that students at various age levels can both understand the content and find it engaging.

Our new white paper, Engineering Learning Trajectories: What They Are and Why They Matter, lays out a road map that administrators should keep in mind when considering engineering curriculum.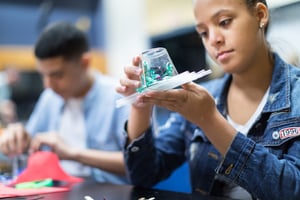 A learning trajectory is the developmental progression for a specific type of content. In other words, it's a learning path for how a child at various ages can engage in developmentally appropriate engineering. Through years of classroom observations and years of research, we've identified several foundation principles and practices of engineering i.e. design parameters for an effective age-appropriate engineering design challenge.
These design parameters are:
Narrative Context
Children need context to be able to recognize what the problem is, why it is important, how it applies to their lives, and how they will apply knowledge to solve the problem.
Goals, Constraints and Requirements
Early in the engineering design process, engineers define the problem and its scope. Young engineers must also learn how to define the parameters of a problem, identify criteria, and work within specific constraints as they design a solution.
Engineering Design Processes (EDP) and Practices
The engineering design process is central to engineering. Encouraging kids to follow this flexible process helps children accept that failure is to be expected on the way to continual improvement and eventual success. They start to learn that problem solving is the heart of what they are doing as they move through the EDP steps. The most important thing is to get kids engineering reflectively–so they're not just doing crafts but following a process – but working systematically, evaluating their designs, and always looking for ways to improve.
Materials and Methods
Providing young children opportunities to explore and work with materials improves their knowledge of the world around them. Our challenges help children practice developmentally-appropriate methods of construction developing their fine motor skills.
Application of Science and Mathematics
A well-designed and integrated engineering design challenge can deepen students' understanding of science and help them see the real-world applications of science knowledge. Designing curricula that integrates science takes careful planning, thoughtful researching, and testing.
Analysis of Data for Planning and Redesign
As educators, it's important to provide as many opportunities as possible for kids to reflect on their data, recognize patterns, and make informed decisions giving them the tools to successfully transform data into information and insight.
Collaboration
Engineering is a collaborative activity. From ages 3-12 as they mature, children dramatically improve their ability to work in teams.
Fostering Student Agency
Fostering agency in young children helps them build confidence, motivates them to make their own informed decisions, and solve problems. After engaging in a carefully researched and thoughtfully structured engineering design challenge, students will feel more confident in their problem solving skills.
Children as young as 3 can engineer but it's important that they're engaging in age-appropriate engineering practices when they do. If you want your young learners to benefit from the full power of early engineering education, it's important to make sure that you're choosing research-based, teacher-tested engineering curricula that integrates science and math effectively.
Learn more about engineering trajectories and create a generation of problem solvers.