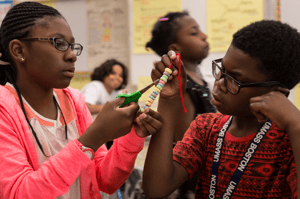 To develop the 21st century skills all learners need to succeed in school and life, we must foster digital literacy and computational thinking skills. That's why we're expanding students' STEM knowledge with brand new computer science units, designed to integrate with existing Engineering is Elementary units. To ensure that these units will work for all learners, we're seeking elementary educators who are interested in pilot testing them in their own classrooms. In exchange for your feedback, materials and a stipend will be provided.
Why Computer Science?
According to the Burning Glass Technologies report Rebooting Jobs: How Computer Science Skills Spread in the Job Market, "Living wage jobs in the future will require some level of computer science knowledge. With that in mind, it's important that we continue to discuss computer science education as an equity issue." We're committed to helping every kid develop their STEM identity and preparing them for the challenges and careers of the future, so Computer Science is a natural next step in our STEM offerings.
A Commitment to Teacher-Tested Curricula
Each EiE unit undergoes multiple rounds of pilot testing to ensure that educators can implement engineering with ease and students can have a rich learning experience. We carefully evaluate every aspect of our educator guides and materials kits so that when the finished product arrives in educators' classrooms, they can focus on what they do best: leading engaging STEM experiences.
If you're interested in getting a first look at our Computer Science curriculum or updated Engineering is Elementary units and playing a critical role in our development process, apply to pilot new materials today.
More pilot opportunities are coming up soon. If you'd like to be the first to know about future pilots, subscribe to EiE Pilot Updates and get the latest opportunities delivered right to your inbox.