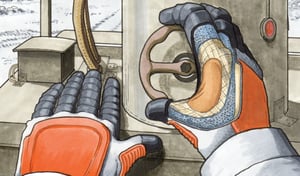 Engineering Adventures, our flexible engineering curriculum for grades 3-5, helps kids learn and practice 21st century skills as they collaborate, communicate, solve problems, and share their solutions with their peers while embarking on the Engineering Design Process. Our newest unit, In Good Hands: Engineering Space Gloves, challenges learners to engineer gear for NASA astronauts!
An Out of This World Adventure
In this unit, globe-trotting brother-and-sister duo India and Jacob take kids on a journey to Antarctica to learn about the hazards of space. They enlist learners' help to design gear that will help astronauts complete one of three missions to an asteroid, Earth's moon, or Mars. Kids will become materials engineers as they learn more about how the properties of materials make them well suited for different jobs, like protecting an astronaut from space debris, extreme temperatures, or radiation.
The Latest in our PLANETS Partnership
Since 2016, EiE has partnered with Northern Arizona University and the USGS to create space-themed engineering units as part of a grant program from NASA. Through this PLANETS initiative, we have created two Engineering Everywhere units—Testing the Waters: Engineering a Water Reuse Process and Worlds Apart: Engineering Remote Sensing Devices. In Good Hands: Engineering Space Gloves is a continuation of this exciting program.
"We hope that the new unit created by the collaboration between EiE, Northern Arizona University's Center for Science Teaching and Learning, and the US Geological Survey Astrogeology Science Center will introduce students to the mystery and amazement of space exploration by giving them a practical, hands on way to interact with the challenges that NASA thinks about every day," said Joëlle Clark, PLANETS Principal Investigator. "The PLANETS project is designed to inspire learners by giving them access to quality STEM projects and to NASA's many fascinating assets where they live, learn, and play."
Engineering Adventures
Engineering Adventures engages learners in grades 3-5 in fun, creative problem solving. Eleven hands-on units are low-cost and flexible: lessons last 45-60 minutes with minimal set-up time, to make implementation easy. Each unit centers on meaningful, open-ended problems introduced through messages from fictional, globe-trotting siblings, so learners can explore avalanche engineering in Peru and green engineering in Senegal. They'll find out more about the role engineering plays in their lives and the world around them as they're introduced to real engineering challenges and asked to design solutions with an engineering design process. As kids learn to collaborate, communicate, solve problems, and share their solutions with their peers, they'll develop key 21st century skills and begin to create their STEM identity.