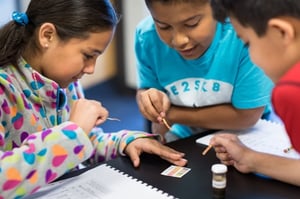 Back to school time is upon us! Whether you're brand new to STEM or a seasoned engineering educator, it's the perfect time to reflect on your goals for the upcoming year and think about how to help a new group of learners discover their STEM identity. We've compiled a few resources that will help you with everything from syllabus planning to storage and organization, so you can start the year off right.
Get Organized
Effective materials management is key to the success of any hands-on, inquiry-based STEM program. Patty Whitehouse, the Engineering Lab teacher at Chicago Public Schools' Goudy Technology Academy, shared some of her favorite classroom organization tips on one of our most-read blog posts. We also compiled some of our favorite How-To and Getting Started videos in our Materials Management Tips for Hands-On Learning blog post to help you make the most of your EiE kits.
Make the Perfect Engineering Connections
Connecting the topics you already teach to engineering can help increase comprehension, engage more learners, and boost science test scores. We've curated collections of EiE units on the blog to fit several themes, including standards-based Engineering is Elementary units and flexible Engineering Adventures and Engineering Everywhere units. Take a look at your syllabus to see where engineering might fit into your classroom this year.

Find the Right Funding Source for Your Program
Want to learn more about how ESSA, Title IV, grants, and corporate gifts can help you fund your STEM program? We've created a Guide to PreK-8 STEM Funding that will help you navigate the variety of STEM funding sources that may be available to you.
Tip: Does your school or district use ClassWallet? EiE is now available on the ClassWallet storefront! Log into your account and search for "EiE" to find all of our materials.
How are you setting yourself up for success this school year? Let us know in the comments below!