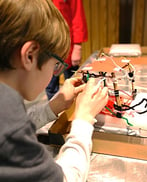 In our afterschool curricula, Engineering Adventures and Engineering Everywhere, we strive to emphasize real-world connections that make engineering feel relevant to youth. You can always find articles, videos, and books on each unit's resource page, but our staff is constantly finding new viral videos and articles that relate to our units. Here are four resources that will show your kids that engineering is all around them, and is constantly changing the world.
Dog Day Afternoon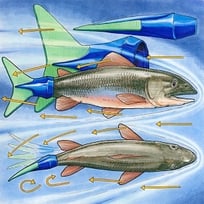 Anyone who has taught our EE unit Go Fish: Engineering Prosthetic Tails will remember Derby the Dog. Youth tend to fall in love with Derby, the energetic pup in our context-setting video whose prosthetic legs were designed, improved, and improved again with the Engineering Design Process. Since we filmed that video, the engineers who designed Derby's prosthetics decided to tackle the problem of helping Derby sit comfortably, and have improved their design yet again! When you show youth the newest iteration of his prosthetics in this viral video, you can emphasize how engineers never stop improving.
Brain Freeze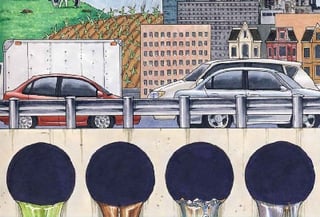 Our EE unit Don't Runoff: Engineering an Urban Landscape focuses on the ways that runoff from rainfall can pollute urban waterways. In Boston, where EiE units are developed, rain is the last thing on our mind in the winter—we're too busy digging ourselves out from under the latest snow storm. If you want to make Runoff seasonally relevant in a snowy area, here's a simple connection: explain how engineers are thinking about alternatives to road salt and snow melt, which run into water supplies and influence drinking water and soil quality throughout the year.
Quake Mapping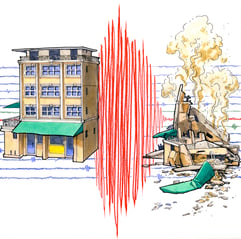 The EA unit Shake Things Up: Engineering Earthquake-Resistant Buildings has no shortage of timely connections. To emphasize how important engineering earthquake-resistant buildings is, you can show kids the USGS's real-time global earthquake map, which shows where magnitude 2.5+ earthquakes have occurred in the last day. If you're looking to start a conversation about how engineers can relate the importance of earthquake-resistant buildings to the public, you can show kids this article about David Hopkins, a leading earthquake engineer who hopes to implement an earthquake star-rating system for buildings around New Zealand.
Textiles for a Cause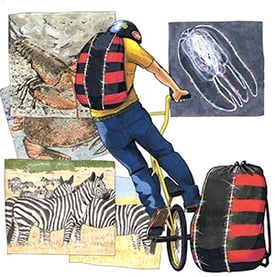 In the EE unit It's in the Bag: Engineering Bioinspired Gear, youth design bioinspired bags and packs for clients based on the clients' unique needs. The clients in this unit need gear for everything from transporting instruments from practice to relaying secret spy messages, but they aren't the only people who need textiles that have been engineered for a specific purpose. If you're looking to bring a timely social-justice connection to your unit, check out the Empowerment Plan, the organization designing coats that double as sleeping bags to aid the homeless population in Detroit. The organization's founder, Veronika Scott, came up with the design when challenged in a college class to fill a need in her community.
Next time you're scrolling through social media and come across a cool invention or interesting problem, think about the engineering connections you could make in your classroom or afterschool program. Engineering really is everywhere, and showing kids timely stories like these helps emphasize that engineering is always powerfully impacting people's (and animals'!) lives.
Engineering is Elementary is a project of the National Center for Technological Literacy® at the Museum of Science, Boston.