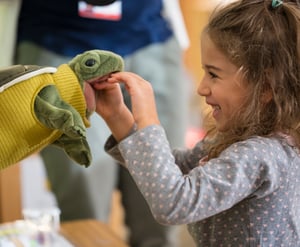 The EiE team has had a busy year! We hosted national and international PD workshops, met countless educators at conferences, and developed, tested, and refined our new curriculum guides and resources. There were so many exciting updates in 2017, we want to make sure you didn't miss a thing! Here are a few of the highlights of the past year at EiE.
What's New?
Spanish-Language Resources
We're committed to making our curricula accessible to all learners, so this year we released a plethora of new Spanish-language resources. You can now find Spanish translations of storybooks, family letters, handouts, and pre- and post-assessments for each Engineering is Elementary unit on our website (learn more on the blog). And on the newly redesigned download screens for each Engineering Adventures and Engineering Everywhere unit, you can access Spanish translations of all student-facing materials and family letters (learn more on the blog). You can also download Spanish-language EDP posters under the Resources tab of each curriculum.
Engineering Adventures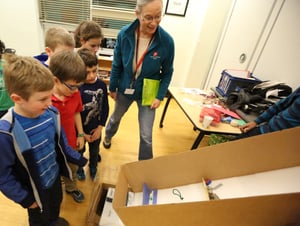 Our two newest Engineering Adventures units take kids across the globe to solve engineering challenges with brother-and-sister duo India and Jacob. In Light Up the Night: An Electrical Engineering Challenge, kids create a replica Northern Lights display for an art festival in Iceland. And in A Slippery Slope: Engineering an Avalanche Protection System, kids create devices to contain falling debris and reduce the damaging power of avalanches.
Engineering Everywhere
Our new Engineering Everywhere educator resource hub is full of articles, videos, websites, and games to support your teaching of each Engineering Everywhere unit.
Online PD
Over the past year, we rolled out new Online PD offerings. We've had so much interacting with the EiE community in this new way. Our webinars covered topics like effective questioning strategies, meaningful integration, engineering habits of mind, and materials management (find recordings of these webinars here). Most excitingly, we conducted our first online PD workshop with a fantastic group of educators from across the US. We can't wait to show you what's in store for online PD next year!
Pilot Time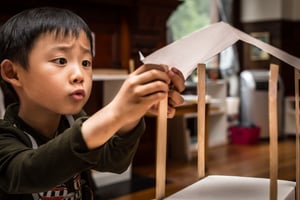 This fall, the EiE pilot season was in full swing! We shipped materials kits to educators around the country so they could test out our new resources for diverse learners, digital storybooks, and our new OST curriculum. We're so excited to launch these new resources in the new year! Curious about how many pom-poms we fit into 315 boxes? We broke down the numbers in a fun infographic .
Congrats, Christine!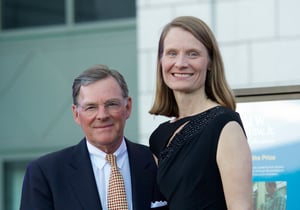 Our founder and director, Dr. Christine Cunningham, had a banner year! In May, she received a Harold W. McGraw, Jr. Prize in Education—one of the most prestigious awards in the field. Christine was recognized in the U.S. K-12 Education category for "pioneering a curriculum that is transforming education by introducing engineering concepts and practices at the elementary level." Her moving acceptance speech included a special shoutout to our closest collaborators: classroom teachers.
Christine also participated in "Cracking the Code: The Next Generation of Women in STEM," an AtlanticLIVE event in Boston. She shared her valuable insights into the lack of female representation in science and engineering alongside education and tech pioneers like Andrea Beatty, the author of Rosie Revere, Engineer! Check out our blog post to learn more about the event and watch footage of the panel discussions.
EiE accomplished so much in 2017! We're looking forward to 2018, which is shaping up to be an even bigger and better year. Subscribe to our newsletter and blog to stay up-to-date on all of the exciting things we'll be working on next year.